At a glance
l Haka, founded in 2013, is a well-known vape brand from Korea. Specialized in closed pod system and heat-not-burn (HNB) products, Haka is a long-term strategic partner of FEELM.
l In 2017, the rise in global demand for closed pod systems set off a new wave in the Korean electronic cigarette market: while HNB products were popular, pod vapes were also gaining momentum. Haka saw the opportunity in the Korean pod vape market - a blue ocean market yet to be taken. Haka teamed up with FEELM to launch Haka Signature - a closed pod system electronic cigarette powered by FEELM's innovative ceramic coil heating technology; Haka Signature's space-like design helped it stand out from the competition, differentiating itself from most conventional USB Drive-like and cig-like products on the market. Haka Signature later became a hit in Korea.
l Product innovation and profound consumer insights are two key success factors in driving Haka's growth as a leading brand in the Korean closed pod system market. Up until now, closed pod system products account for over 90% of the total revenue for Haka.
l HAKA has been awarded the grand prize at Joongang Daily and Forbes Korea Leading Brand for the past 7 consecutive years. As a local brand, originating in Korea, Hake dealt with a challenging market and made a major breakthrough in spite of fierce competition from several tobacco giants. They have contributed to the variety and maturity of vaping devices for the whole new tobacco market, and accelerated the popularity of e-cigarettes in Korea. All thanks to the empowerment of FEELM.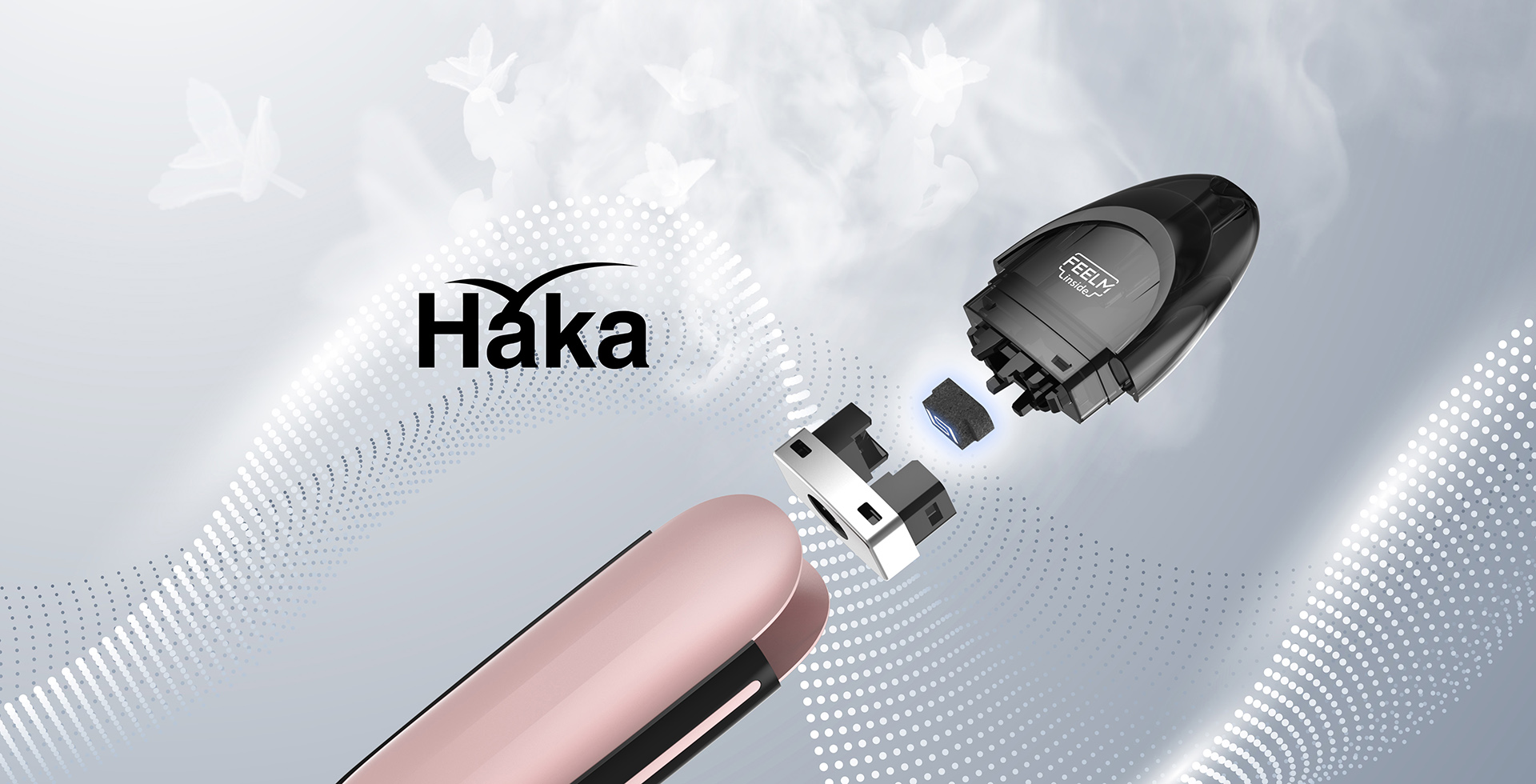 A Bold Debut into the Blue Ocean of New Tobacco Products in Korea
HAKA, a Korean vape brand founded in 2013, started by making open system devices and e-liquids. Like most other nascent markets, Korea was occupied with open pod devices and HNB products, which gained lots of popularities among e-cig users.
In 2017, there was a global hurricane in closed vape pods, resulting in a transition from open vape pod and HNB products to closed pods. After 5 years of cultivating operational and business experience, and in the face of fierce competition in HNB products, Haka started their exploration of branding in closed pod systems in this 'blue ocean' field.
High-quality and differentiated products always come to the cornerstone of branding and sales growth. In 2018, with the requirement to brand its own closed vape pods, Haka tried to find an OEM supplier. Eventually, FEELM impressed them with its underlying atomization solutions that follow the 'First Principles'*, the 'customer first' principles, extra value added for clients that are rooted in FEELM being a 'leading product', as well as, passion about devoting all of FEELM's efforts into client success. These parallel values and visions led to Haka collaborating with FEELM, which officially announced an internal revolution from then on.
*First principles thinking means boiling things down to "the most fundamental truths" and then developing its reasoning.
Successful Transformation Enabled by FEELM
Haka made the decision to collaborate with FEELM by introducing a ceramic coil vape pod to the Korean market for the first time, named Haka Signature. Not only did this solve a number of familiar complaints from e-cigarette users (e.g. spit back, and burnt taste), but it also reduced the leakage rate to an unprecedented 5%, which is far lower than the cotton coils used in competitive products.
Haka Signature's brand positioning suited medium and high-end consumers perfectly. Meanwhile, the unique space-like appearance designed by the FEELM Design team looked chic and elegant: the overall bodyline is smooth, and the matte-touch surface, glossy finger pad, and tough body form texture, give the product an extraordinary design artwork, and high-tech, futuristic feel. Thus, Haka Signature received wide praise in Korea, becoming a phenomenon and creating a wave of different aesthetics which rivalled other similar products on the market.
Once launched, Haka Signature gained market share and a reputation for premium quality and customer service, that increasingly raised the user experience of Korean vapers and brand customer loyalty. During the early stages of its product lifecycle, FEELM became a solid backup for Haka's user feedback: timely and keenly identified problems, constantly upgraded internal technology, structure and appearance, continuously optimized the user experience, and provided effective marketing tactics for the Haka team. With an excellent business operation and deep understanding of consumers' preferences in Korea, Haka has successfully established a reliable and credible image of premium quality, extensive store location and considerate customer service in the minds of Korean vapers.

Surging Customer Base, Surging Popularity
Understanding Haka's business and financial model has allowed FEELM's professional and experienced sales team to actively lead reviews of their financial statements, after which we discovered that by expanding Haka's user pool, the company could generate a more sustainable business operation, leading to higher sales growth margins from Haka's closed pod device.
Adapting a series of competitive promotion strategies led to a significant increase in user volume. Based on this, Haka established its own vaping community (it has accumulated a huge amount of customer membership; more than 1/3 of Korean e-cig users). Adhering to the "Customer First" principle and embracing the wishes of growing together with customers, FEELM provided several portfolios of supportive promotional policies for potential clients like Haka to choose from, and made every effort to assist in achieving their goals: despite the global pandemic and the strictest novel tobacco taxation policies in South Korea ever, which contributed to a jump in the cost of pods. The amount of Haka's pod orders per month still surpassed the total amount of Korean vapers (65 million) in 2021.
A Tech-Driven Brand Booming in Korea
In order to expand its business to various overseas markets, and increase foreign consumers' brand recognition of Haka, FEELM supported its debut at the 2019 Vaper Expo Birmingham, where it introduced Haka to European and global vapers. FEELM successfully held a series of technology brand promotion campaigns at the expo, and provided in-depth technical endorsements at Haka's booth, which greatly backed up their scientific and technological brand image.
In under 3 years, Haka has grown to be the No.1 closed system vape brand in this region. Looking back on milestones of Haka since FEELM came into the picture, FEELM played an important role in every step along the way: partnership and growth always go hand in hand. Thanks to its effective business strategy and optimal resource allocation, Haka has reached a 237% annual growth in closed pod product sales, which accounted for over 90% of their total revenues.
By adding Haka Signature to diversify its offering, Haka has undergone a remarkable development journey to become a domestically recognized leader in the closed pod vape market, making its name into the list of top Korean vaping brands.
In the future, FEELM will use in-depth and multi-field cooperation with Haka, help to launch more new products,upgrade their product portfolio to adapt to the ever-changing requirements of customers, and continue to be the core engine for Haka's business growth.