At a glance
l Founded in 2006, the same year vaping began to take off in the U.S., NJOY is one of the largest independent e-cigarette companies in the country. It's also one of the first American entities to manufacture and distribute e-cigarettes domestically.
l NJOY aims to provide electronic vaping products for adult smokers, seeking an alternative to combustible cigarettes. NJOY also provides products for clinical projects led by the National Institute on Drug Abuse (NIDA), focusing on dimensions of e-cigarettes safety and harm reduction.
l In 2009, NJOY became FEELM's global partner and launched the flagship products NJOY King, Daily and Ace, together with FEELM. After debut, NJOY rapidly gained market share and fiercely competed with multinational tobacco giants, to become a leading brand in the TOP 3 of American e-cigarette enterprises.
l On April 27, 2022, the star product, NJOY Ace's Premarket Tobacco Application (PMTA) was officially approved by the FDA, becoming the first closed system vape product loaded with ceramic coil pods to be authorized in the U.S. market. Moreover, NJOY became the first non-tobacco brand to be approved by the FDA.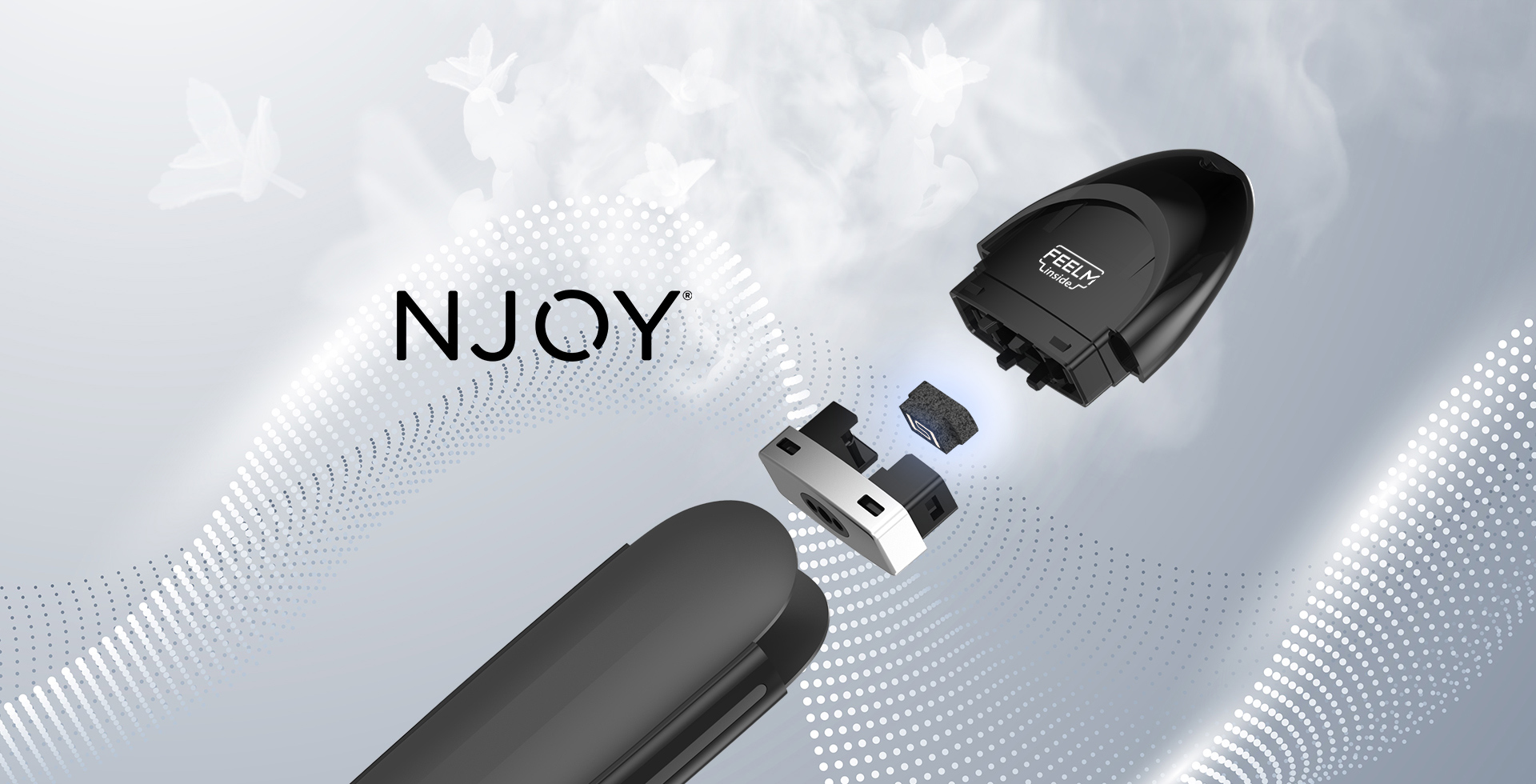 Witnessing NJOY's transition to new product lines, backing into high growth rate
NJOY was one of the first American companies to manufacture and distribute e-cigarettes domestically. After debut, it immediately started on a journey of collaboration with FEELM, in the face of increasingly fierce competition, and an urgent need to strengthen its R&D capability and branding.
l At the beginning of 2009, NJOY, with the support of FEELM technology, introduced a Cig-a-like product called NJOY King (similar to a slender tobacco stem), which generated wide popularity, and contributed $90 million in annual revenue in 2013;
l One year later, NJOY occupied more than 90,000 retailers, ranking first among sales of retail stores in the category of vape products;
l In 2015, NJOY Daily became available, which used FEELM tech;
l Determining a new product design and brand positioning, NJOY Ace was launched and aggressively gained considerable market share in just 3 months, resulting in high growth rates, and at its peak accounted for more than 20% of the whole market.
All in all, FEELM accompanied every milestone of partner NJOY, witnessing fruitful harvests together.
Star NJOY Ace acted as an ace
2018 was a turning point for the vaping industry worldwide. NJOY was facing increasingly fierce competitions in the American e-cig market: JUUL, an independent e-cig brand grew exponentially. Meanwhile, global tobacco giants (Altria, British American Tobacco, Japan tobacco, etc.) came on board with great capital investments. Simultaneously, NJOY rebranded and optimized the brand design by collaborating with FEELM to introduce the ceramic coil vape – NJOY Ace, which appeared to be 'unconventional' in the then cotton coil-dominated vape market.
Ace immediately became the 'ACE Product' of NJOY, as well as the one and only closed pod vape that utilized ceramic coil heating technology. FEELM's industry-leading ceramic coil atomization solution effectively solved the problems of most e-cig users, e.g. leakage, burnt taste, flavor consistency, etc.). Meanwhile, the stylist and minimalist space-like design perfectly matched NJOY's positioning as the high-end vape brand made for high-end customers.
With FEELM's help, NJOY became the beloved trailblazer which did not follow the crowd of the then-trendy USB-like closed pod vapes. In 2019, the initial stage of NJOY Ace's launch, the product went viral, creating a challenge for the productivity and operational capabilities of its manufacturer. Faced by the unexpected and overloaded orders, FEELM made an all-out effort to fulfil the productivity and order deliverables by wisely coordinating the productive resources and expanding custom channeling resources. In October of that year, NJOY attended the industrial trade show NACS, at which FEELM supported the brand by preparing the required promotional materials, strategically planning the well-received marketing activities to altogether raise NJOY's brand awareness.
In conclusion, NJOY's sales revenue of 2018 multiplied by 7 when compared with that of the previous year. Meanwhile, its market share increased rapidly: in 2019, the proportion was only 2% in January, whereas it jumped to 20.3% (according to Nielsen statistics). This was recognized as the second largest amount of sales in American convenience stores at the time.



Compliance Persistently, Authorization Eventually
In 2020, NJOY removed all flavor pods to ensure regulatory compliance with the U.S. Food and Drug Administration (FDA), and invested in its submission for Premarket Tobacco Application (PMTA) with the federal government. FEELM, developed both the technology inside and manufactured the end-product. It took responsibility, as an overall atomization solution provider, for the whole PMTA process, and spontaneously formed a regulatory team, in charge of test samples for FDA clinical laboratory. Feelm sorted through thousands of SOP and BOM profiles for each component, the provisions of safety manufactory certificates, and coordinated between the FDA's supervision team and FEELM's factories.
On 27th, April, 2022, NJOY Ace officially became the first closed system e-cig device and the first electronic atomization featuring ceramic coil to be approved by the FDA for a PMTA. This decision has been defined as a landmark: it not only revealed that there is no objection in principle to high nicotine strength pod conveyed e-liquids, which disproves rumors about the conservative attitude towards innovative ceramic atomization technology on the most efficient delivery of vapor and nicotine ever; but also it showed that the FDA approved the use of classic tobacco pods (2.4% and 5% nicotine inclusively), which demonstrates its recognition that vaping is less harmful than smoking.
Under the PMTA pathway, the applicant must demonstrate to the FDA, among other things, that marketing of the new tobacco product would be appropriate for the protection of public health. The authorized NJOY products were found to meet this standard because, among several key considerations, chemical testing was sufficient to determine that overall harmful and potentially harmful constituent (HPHC) levels in the aerosol of these products is lower than in combusted cigarette smoke. Furthermore, data provided by the applicant demonstrated that participants who had used only the authorized NJOY Ace products had lower levels of exposure to HPHCs compared to the dual users of the new products and combusted cigarettes.
FEELM, a premium technology brand of SMOORE, has been developing ceramic coil technology for decades, and enhanced the safety standards of electronic atomization products through R&D investment and laboratory data accumulation. Currently, SMOORE has built the first E&L lab in atomization industry, which enables medical grade tests in material security, along with the first toxicology laboratory for e-liquid reports, evaluating products' vapor HPHC and potential risk of user contact with invisible harmful ingredients combined with the highest standard. With increasingly distinct claims on PMTA regulations in the U.S., the e-cig competition is becoming standardized: small and medium-sized enterprises withdrawn from the stage gradually, and large entities will dominate the technology upgrade and iteration. In future, sponsors are expected to support NJOY's business expansion and boost its market share substantially. In general, performing as the atomization solution forerunner, FEELM is sure to convince clients with more confidence and guarantee their long-term business operation.